Senest ændret 23. march 2020
Albert Pike - de tre verdenskrige
Albert Pike var 33º frimurer og grundlægger af Scottish Rite, samt forfatter til bogen Morals and Dogma. Albert Pike og Frimurer-ordenen er blevet et yndet mål for dæmonisering i det kristne miljø. Det hele skyldes en komplet mistolkning af Albert Pikes bog Morals and Dogma, hvor han bla. citerer den franske neo-katolik Éliphas Lévi og hans fortolkning af Lucifer (lysbringeren).

Brevet med de tre verdenskrige
Der florerer en tekst som angiveligt skulle stamme fra en brevveksling mellem Albert Pike og Giusseppe Mazzini i 1871, som i detaljer beskriver hvordan tre verdenskrige var planlagt på forhånd. Teksten er det pureste opspind, og bygger på en blanding af Leo Taxil svindelnummeret, samt mistolkninger af Albert Pikes citat af Lucifer i hans bog Morals and Dogma.

Dyrkelse af Lucifer (lysbringeren)
Frimureriet er ikke dyrkelse af Lucifer eller lysbringeren. Det er helt ude af kontekst, og er en komplet mistolkning af Albert Pikes bog Morals and Dogma. Ved oversættelsen af de originale tekster til King James bibel, blev ordet morningstar omfortolket til Lucifer (den latinske måde at sige morningstar på).
Albert Pike citerede fra bogen The History of Magic af Éliphas Lévi, som var katolsk kristen! Lucifer er i virkeligheden morgenstjernen (venus/isis), den som bringer lyset (solen) med sig. Dette er hovedårsagen til at de fleste ekstreme kristne fordømmer frimureriet, og kalder det tilbedelse af satan!

Konspirationens oprindelse
Konspirationen er startet af kristne fanatikere, der mener at Albert Pike og frimurer-ordenen er en satanistisk kult, som i al hemmelighed tilbeder Lucifer "satan". Denne tendens har siden spredt sig til sandhedsbevægelserne.

Konspirationen udspringer fra hjemmesiden www.threeworldwars.com som ejes af Michael Haupt. Teksten er baseret på en række misinformation fra bøgerne Pawns In The Game og Satan Prince of This World, af William Guy Carr, som er tidligere efterretningsofficer i Royal Canadian Navy. Han hævder at teksten stammer fra Kardinal Caro y Rodriguez fra Santiago i Chile, og hans bog The Mystery of Freemasonry Unveiled. William Guy Carr er dybt kristen og nævner også at den eneste måde at undgå scenariet fra brevet, er ved at blive ægte kristen, uden afvigelser.

The Mystery Of freemasonry Unveiled er skrevet på baggrund af The Cause Of World Unrest af Howell Arthur Gwynne, som igen er bygget på Dr. Batailles bog Djævelen i det 19. århundrede (Le Diable Au XIX Siecle). Dr. Bataille er LEO TAXIL, som i virkeligheden hedder Marie Joseph Gabriel Antoine Jogand Pages, som personligt har erkendt, og undskyldt en hel række af litterære svindelnumre! Der er heller ingen af de nævnte bøger der beskriver noget om verdenskrige!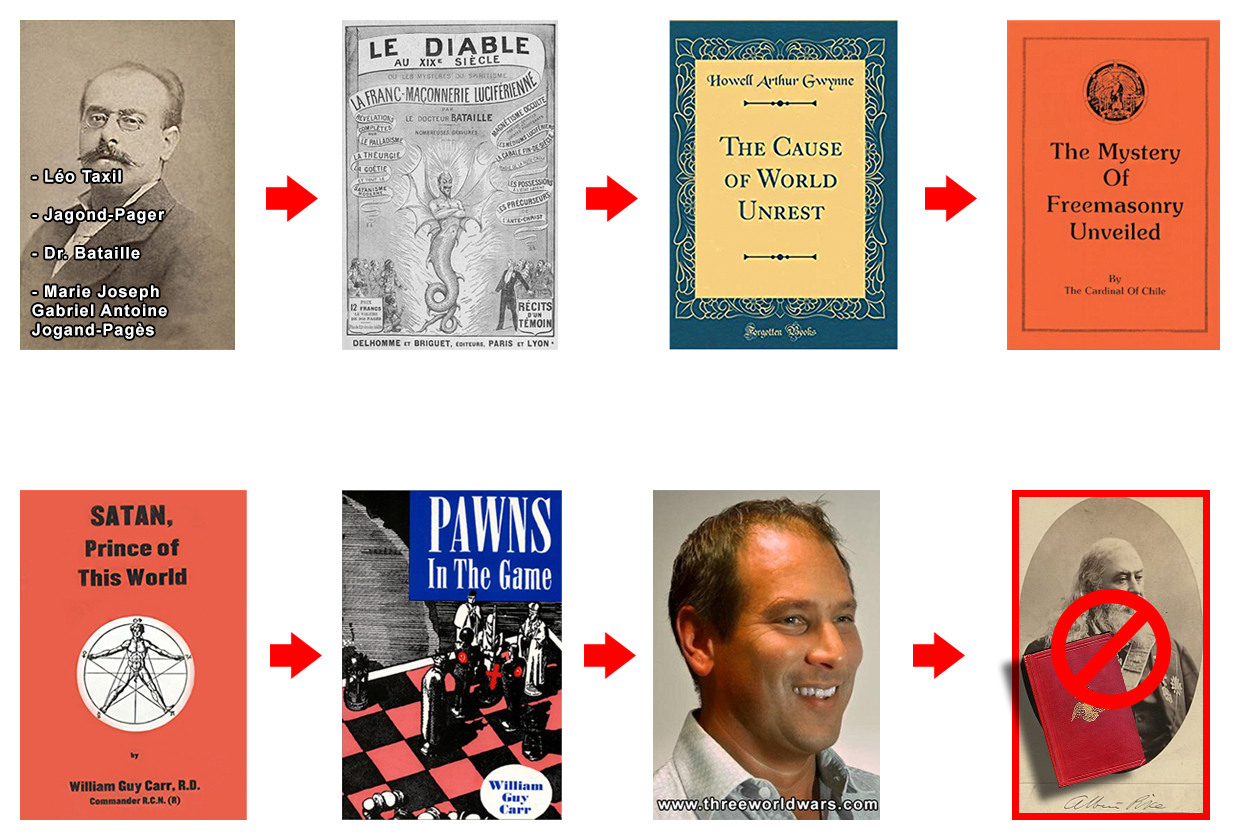 Konklusion
Konspirationen omkring Albert Pike og de tre verdenskrige, samt at frimurer-ordenen tilbeder Lucifer (djævelen), er et af de bedste eksempler på hvad der sker, når intelektuelt dovne researchere spreder misinformation uden at undersøge kilderne først!




Herunder kan du læse teksten om de tre verdenskrige:


Den 1. Verdenskrig
"The First World War must be brought about in order to permit the Illuminati to overthrow the power of the Czars in Russia and of making that country a fortress of atheistic Communism. The divergences caused by the "agentur" (agents) of the Illuminati between the British and Germanic Empires will be used to foment this war. At the end of the war, Communism will be built and used in order to destroy the other governments and in order to weaken the religions."

Den 2. Verdenskrig
"The Second World War must be fomented by taking advantage of the differences between the Fascists and the political Zionists. This war must be brought about so that Nazism is destroyed and that the political Zionism be strong enough to institute a sovereign state of Israel in Palestine. During the Second World War, International Communism must become strong enough in order to balance Christendom, which would be then restrained and held in check until the time when we would need it for the final social cataclysm."

Den 3. Verdenskrig
"The Third World War must be fomented by taking advantage of the differences caused by the "agentur" of the "Illuminati" between the political Zionists and the leaders of Islamic World. The war must be conducted in such a way that Islam (the Moslem Arabic World) and political Zionism (the State of Israel) mutually destroy each other. Meanwhile the other nations, once more divided on this issue will be constrained to fight to the point of complete physical, moral, spiritual and economical exhaustion…We shall unleash the Nihilists and the atheists, and we shall provoke a formidable social cataclysm which in all its horror will show clearly to the nations the effect of absolute atheism, origin of savagery and of the most bloody turmoil. Then everywhere, the citizens, obliged to defend themselves against the world minority of revolutionaries, will exterminate those destroyers of civilization, and the multitude, disillusioned with Christianity, whose deistic spirits will from that moment be without compass or direction, anxious for an ideal, but without knowing where to render its adoration, will receive the true light through the universal manifestation of the pure doctrine of Lucifer, brought finally out in the public view. This manifestation will result from the general reactionary movement which will follow the destruction of Christianity and atheism, both conquered and exterminated at the same time.