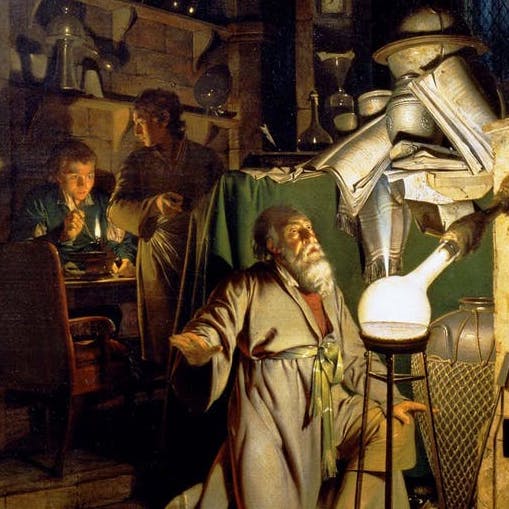 Alkymi
Alkymien opstod på mistolkninger af de hermetiske tekster (den egyptiske metafysik), som er bygget på overfortolkninger af egypternes religion. Alkymien kan sammenlignes med et forsøg på at dyrke astronomien i praksis. Feks. forsøgte man at lave bly til guld, baseret på en metafor om solens genopstandelse. Ordet alkymi oprinder fra El-Kemet, navnet på de oprindelige egyptere i Kemet kulturen (el khemit).

Der er dog ingen tvivl om at den fysisk/kemiske alkymi har ført til mange brugbare opdagelser, men den er desværre også blevet fundamentet for New Age fortolkninger af astronomien, og har skubbet den moderne videnskab ud på et alvorligt materialistisk sidespor.
Amduat
Amduat er den egyptiske analogi af solens cyklus om natten/vinterhalvåret, også kendt som "teksten om det skjulte kammer" teksten om underverdenen". Teksten foregår over de 12 nattetimer, fra solen går ned, henover midnat og indtil den står op ved daggry.

Amduat teksten stammer fra det sene Egypten (Tutmoses III grav) og er derfor kun en tolkning af den meget ældre Kemet tradition. Det kendetegnes ved at man blander den menneskelige sjæl og solens cyklus sammen. I Kemet kulturen (det tidligste Egypten) brugte man ikke sjælefortolkninger.

Ordet Ba betyder ikke sjæl, men er en betegnelse for den fysiske sol lige efter at den runder midnat. Ka og Ba er solen i nattetimerne før og efter midnat. Denne gigantiske misfortolkning har ledt til opfindelsen af at der findes en menneskelig sjæl. Sjæl (soul) er sålen, det nederste punkt i solens cyklus.

Amduat er derfor en mistolkning, eller en overbygget religiøs tolkning af astronomien, som kombinerer solens cyklus om natten, med menneskets efterliv. Det var noget den korrupte Amun præstekult levede fedt på, for så kunne de sætte sig som mæglere mellem livet og efterlivet.
Anunnaki
Historien om Anunnakierne er Sumernes (old Irak) analogi af astronomien. Lad os starte med at slå fast at Zecharia Sitchins tolkning af legenden om Anunnakierne er forkert! Anunnakierne har intet at gøre med en fremmede race som ankommer til jorden og genmanipulerer mennesket for at benytte dem som slaver i guldminerne!

Anunnaki betyder "fra himlen til jorden", og skal tolkes som "fra natten til dagen".

-Faderen An/Anu er den aldrende sol (midnat)
-Sønnerne Enlil og Enki er den fysiske sol om dagen og natten.
-Moderen Ninhursag er nattehimlen (den kosmiske livmoder).

Enki og Enlil er rivaler, natten og dagen der kæmper mod hinanden.
Astrologien
Astrologi betyder "logikken i stjernebillederne" og er metafysikken fortalt igennem astronomien. Astrologien er den ældste og bredeste viden der findes om vores univers. Ordet astrologi er kun den græske betegnelse, som langt fra dækker hele begrebet bag det astrologiske hjul. Det astrologiske hjul er et værktøj til at forstå torusfeltet (energicyklus), som er det grundlæggende princip i forståelsen af universet (felt mekanikken).

Den urgamle viden om hjulet har i ti tusinder af år været den altoverskyggende og grundlæggende viden i samtlige kulturer i verden, indtil imperialismen omskrev den til religiøse dogmer med socialkontrol for øje.

I nordisk mytologi betegnes astrologien som Ase-Tro-Logik (ase tro).
Astroteologi
Astroteologi er læren om hvordan alle religioner oprinder fra astrologien. Alle religioner bygger på en og samme grundviden.
Atomisme
Atomismen er det vi i dag betegner som partikelteorierne og kvantefysik. En teori om at skabelsen af universet skete tilfældigt ved big bang, og at alt består af små partikler (atomer).

Græsk atomisme (mekanisk filosofi / materialisme) opstod allerede i det 5. århundrede fvt. og er en direkte modstander til den oprindelige metafysik (felt mekanikken), som bla. Hermetismen og Platonismen beskriver.

Atomismen er flere gange i historien blusset op, men er hver gang blevet manet til jorden igen. I starten af det 20. århundrede dukkede atomismen atter op, fremført af jesuitterne, og er nu blevet den videnskabelige grundteori for universets opbygning. Senest med Einsteins udlægning af relativitetsteorien, som udelukkende understøttes af matematiske ligninger.

Problemet med den moderne partikelteori kontra den oprindelige metafysik (felt mekanikken) er at den moderne partikelfysik er overtaget af matematikere, som er dybt afhængige af at skabe begreber der understøtter deres ligninger (eksempelvis; vertikale fotoner, loven om tiltrækning, tyngdebølger mv.). Det platoniske tankesæt er forsvundet og dermed indregnes ikke fysiske fænomener nu som fysiske elementer i fysikken. Dette er en historisk brøler for videnskaben!


Liste over de mest kendte atomister
Democritus
Francis Bacon
Thomas Hobbes
Nicolaus Copernicus
Galileo Galilei
Giordano Bruno
René Decartes
Isaac Newton (Corpuscular theory of light)
Roger Boscovich

Albert Einstein var selv modstander af kvantefysikken, men hans teorier var brændstof til jesuitternes motor (kontrol over akademia) og derfor blev han opreklameret til det klogeste individ verden hidtil har set.
Bock sagaen
Bock sagaen er et finsk folkesagn der stammer fra Ior Bock (Bror Holger Svedlin). Sagaen bærer tydelige præg af en sammensætning af astrologi, esoterisk viden og lokale historier. Filosofien bag sagaen har en hvis rigtighed, såfremt man er i stand til at tyde de mange lag af metaforer. Der er ingen grund til at gå i dybden, da sagaen mest af alt er en besværlig omvej af metaforer for Ase kosmologien. Det ville hypotetisk set være nemmere sætte sig ind i Astroteologi eller synkretisme!

Bock sagaen er dog en vandvittig sjov og underholdende fortælling, med stof til eftertanke.
Dødehavsrullerne
Dødehavsrullerne beskriver dele af det gamle testamente, givetvis i en mere original version, som ikke er præget af den manipulation der findes i de moderne bibelhistorier. Skrifterne bevæger sig dog indenfor teologien, og nævner intet interessant i forhold til den viden der ledte til skabelsen af de abrahamiske religioner.
Egyptiske tekster
De fleste kendte egyptiske papyrus tekster og inskriptioner er fortolkninger der bygger på en langt ældre forståelse af naturfænomenerne Isis og Osiris (oprindeligt Aset og Asur), som er den oprindelige egyptiske videnskab om cyklusserne af energi i kosmos. Oprindeligt fandtes der hverken inskriptioner, symboler eller tekster i Egypten, de kom først sammen med de faraoniske dynastier.

Oprindeligt brugte man stjernerne og cyklusserne i årstiderne til at udregne logiske modeller for hvordan energien i kosmos virker (metafysikken). Disse modeller er så fundamentalt logisk gennemtænkte at det er umuligt at ændre eller forbedre dem.
Fortolkningen af den gamle viden har gradvist mistet sin helhed, da teksterne og inskriptionerne igennem tiden er blevet omtolket af forskellige faraoer og præster.

De mange omtolkninger har siden skabt religionerne, og i den moderne egyptologi mistolker man ofte teksterne som en religion, og egypternes syn på livet efter døden. Allerede 2500 år fvt. var meget af den oprindelige viden allerede opslugt af utydelige lag af metaforer, og korrumperet af præster og forretningsmænd!

Herunder nævnes nogle af de mest berømte tekster:
Pyramideteksterne
Book of Caverns
Book of the Dead (Books of Breathing forkortet udgave)
Book of the Earth
Book of Gates
Book of the Netherworld
mfl.
Epic of Gilgamesh
Digtet om Gilgamesh er blot den Mesopotamiske (Irakiske) fortolkning af den tidligere egyptiske legende om Osiris. Gilgamesh er grundlæggende en metafor for astronomien, stjernebilledernes og solen årlige cyklus, og udelader mange af de metafysiske aspekter fra den oprindelige viden. Historien om Gilgamesh og Babylonske Nimrod er den samme, og er i sin fysiske tolkning, en metafor for solens cyklus igennem nattetimerne, og vintermånederne.
Felt-mekanikken
Felt mekanikken er den mest grundlæggende tekniske teori om universet man kan opnå. Det er læren om universtes to fundamentale grundprincipper i energins cyklus (di-elektricitet og elektricitet), hvilket udgør torusfeltet. Effekten af torusfeltet leder til skabelsen af det fysiske univers. 
Felt mekanikken er måske bedre kendt som princippet bag den magnetiske kraft.

Den oprindelige metafysik er en metafor for Felt mekanikken, som typisk forklares igennem "hjulet" (det atrologiske hjul). Det er kort sagt læren om torusfeltet.
Gematria
Gematria er et tal-bogstav kombinationssystem der oprinder fra det old assyrisk-babylonsk-græske system, og senere er blevet importeret af den jødiske kultur. Navnligt den jødiske Kabbala.

Før det moderne talsystem kom, indeholdte bogstaverne også tal. Feks. var A =1, B=2 osv. Systemet er især brugt af de abrahamske/kristne religioner.

Ligesom så meget andet er gematria også blevet mistolket. Symbolværdien i de oprindelige alfabeter blev bygget som en analogi af solens årlige cyklus, hvor feks. nummer 7 er "portalen til det guddommelige" og nummer 9 er "gud/spirit selv".

Mange har den opfattelse at kodesystemet i gematria er nøglen til at løse mystikkens svar på fundamentale spørgsmål om skabelsen og det guddommelige. Jeg kan med det samme afsløre at det kan den ikke!

Gematria florerer hovedsageligt i Kabbalaen og i New Age filosofien. Man bør derfor passe på med ikke at lade sig rive med, i forventningen om at få besvaret dybere spørgsmål, eller afkode en hemmelig viden.





Græsk mytologi
Græsk mytologi er blot endnu en metafor bygget på den egyptiske metafysik, som er omtolket til en række guder der grundlæggende fungerer som metaforer for skabelsen af det fysiske univers. Den metafysiske (ikke fysiske) forståelse bliver først interessant med Plotin og neoplatonismen. Desværre er oversættelserne af Plotin fra old-græsk til latin fulde af fejl og mangler, og afgørende betydninger af vigtige begreber er forsvundet. Dette skyldes primært de græske atomisters komplette mangel på forståelse af den egyptiske metafysik der udsprang fra skolerne i Alexandria i Egypten, og deres hengivenhed for de kristne dogmer og materialismen. Resultatet er at græsk mytologi i dag, mere fremstår som en eventyrfortælling, end den videnskab den i virkeligheden er om cyklusserne i kosmos.
Hermetisme
Hermetismen (Hermes trismegistus) er en filosofi der er bygget på græske metaforer af den egyptiske gud Thoth "budbringeren fra gud" (tanken). Den er mest kendt i den latinske tolkning, som eksploderede i renæssancen i Italien og banede vejen for alkymismen i vesten. Tankesættet og filosofien i Hermetismen er ganske enestående, men alt for mange sandhedssøgende tror desværre at Hermetismen er en grundlæggende, og original kilde for den ældste viden der findes, hvilket langt fra er tilfældet!

Hermetismen er 3.- 4. generation af metaforer for den oprindelige viden om Aset og Asur (isis og Osiris) legenden i Egypten, og den bagvedliggende viden kan derfor optages i en meget renere form, blot ved at studere Khemitologien før den esoteriske viden, og Abrahamismen indtraf.
Den moderne fortolkning af Hermetismen viser sig dog også at være ufuldendt, og en sideløber til den tidlige kristendom der udsprang fra egypten.

Det skyldes at Hermetismen grundlæggende beskæftiger sig med fortolkninger af hændelser efter skabelsen (det fysiske univers), samt dualitet, som er identisk med Abrahamismen, og aldrig redegøre for hvad gud (The One) er! Den oprindelige egyptiske metafysik (før den dynastiske periode) arbejder udelukkende med cyklusser, og ikke med begreber som dualitet, god og ond, død og levende osv.

Hermetismen hører under begrebet esoterisk visdom, som er et glimrende værktøj til at opbygge et sundt moralsæt, men hvis man er på jagt efter viden om de fundamentale principper i vores univers, så kan Hermetismen hurtigt lede en på vildspor! Det var bla. andet det der skete, da alkymisterne troede at de ved hjælp af Hermetismen kunne forvandle bly til guld, eller lave livseleksir! Det var også herfra Isaac Newton fik sine ideer.

Berømte begreber under Hermetismen er bla.:
Prisca Theologia
"As Above So Below"
Magnum Opus (det store værk)
Theurgi
Teologi
Astrologi
Astronomi
Alkymi
Kosmologi
Hinduisme
Hinduismen bygger på fragmenter af principperne i vedaerne, men er gennem tiden blevet præget af mange forskellige fortolkninger, og mistolkninger, og fremstår derfor en anelse diffus. Hinduismen kan ikke betegnes som en religion, det er nærmere en måde at leve på, hvor man på bedste spirituelle vis forsøger at efterleve den overbevisning man selv tillægger fortolkningerne af de gamle vedaskrifter. Hinduismen kan nok bedst betegnes som en ideologi der bygger på fragmenter af den gamle veda viden, hvoraf flere af de metafysiske aspekter dyrkes litterært.
Kabbalah
Kabbalah er den jødiske mysterieskole, som bla. bygger på metafysiske fortolkninger af det 1. testamente og Toraen. Kabbalaen er ældre end de moderne kristne traditioner, og arbejder hverken med dogmer eller religiøse retningslinjer.

Kabbalaen forsøger via forskellige redskaber, at lede den enkelte til en større forståelse af spiritualitet, selvet og universets funktion.

Der findes både den kristne, jødiske og Hermetiske gren af Kabbalahen, hvor den jødiske er den mest udbredte. I moderne tid har Kabbalaen taget drejning af New Age filosofi, fordi forskellige "guruer" og rabbinere har tillagt sine egne tolkninger. Feks. er sefirot systemet, gematria og numerologi slet ikke en del af den oprindelige Kabbalah, ligesom at Kabbalaen heller ikke er af jødisk oprindelse.

Man finder ingen fundamentale svar i Kabbalaen, tværtimod opstår der flere spørgsmål end svar. Det skyldes at de grundlæggende principper i Kabbalaen bygger på astronomiske cyklusser, ligesom de fleste andre systemer.

Kabbalah er meget udbredt blandt Hollywoodstjerner og pop idoler, hvilket får mange til at tro at der er tale om "illuminati". Det skyldes hovedsageligt at sangstjernen Madonna har gjort Kabbalah til en trend for dem der er blevet træt af det kristne dogme.

Keyoflife fraråder at man leder efter fundamentale svar i Kabbalaen, da der er en meget stor chance for at man havner i New Age filosofien og pop-spiritualitet.



Keltisk mytologi
Kelternes mytologi er metafysikken bygget op omkring forståelsen af cyklusserne i stjernehimlen, samt solens årlige cyklus. Læren symboliseres igennem "hjulet", solkorset, som er den kosmiske cyklus. Med andre ord, det astrologiske hjul.
Khemitologi
Khemet er det oprindelige navn for Egypten og dens kultur. Khemitologien er den originale og vigtigste fortolkning af den egyptisk mytologi og metafysik, før den blev manipuleret af de nye faraoniske dynastier. Khemitologien er den ældste videnskab der eksisterer i den vestlige verden, og er kilden til den vestlige filosofi, som er fundamentet for det meste af den viden vi har i dag.

Ordet Khemit kan overrsættes til "landet med den sorte jord" (området langs nilen) og er også rod-betegnelsen i ordet alkymi (el-khemi).

Man bør studere Khemitologi før alle andre senere tolkninger af den egyptiske metafysik, fordi den allerede blev mistolket og korrupmperet af præster og forretningsmænd i de faraoniske dynastier..


Kolbrin teksterne
Kolbrin teksterne er endnu et klassisk eksempel i rækken af dokumenter, som forsøger at tolke den Egyptiske og Keltiske metafysik. Desværre bygger metaforerne i teksterne på de sædvanelige mistolkninger af astronomien og religiøse skrifter, og kan derfor afvises at have nogen form for originalitet. Kolbrin teksterne leder mere på afveje end de giver svar på de fundamentale spørgsmål vedr. kosmologien og skabelsen.
Kvantefysik
Kvantefysikken forsøger at redegøre for universets funktionr igennem relativitetsteorien og partikelteorien (neutroner, protoner, elektroner, fotoner, vertikale fotoner, tyngdeloven osv.). Det problematiske ved partikelteorien er at den ikke kan redegøre for ikke fysiske aspekter, og at teorierne hovedsageligt kun understøttes af matematik.

Matematikken virker kun under den forudsætning at der findes et hvis kvantum (fysiske objekter) der kan tælles. Dette har resulteret i at ikke fysiske fænomener, op igennem kvantefysikkens historie, er blevet konverteret til partikler, som så efterfølgende kunne understøttes af matamatiske ligninger.

Det er det samme som atomisme, materialisme og religion. Kvantefysikken er et religiøst dogme der er overtaget af matematikere.

Mazdaisme (Ahura Mazda)
Mazdaisme (Ahura Mazda) er den originale persiske (iranske) udlægning af det astrologiske hjul, som eksisterede længe før Islam. Det er forkert at kalde det for en isme (religion), fordi den først bliver til en religion under Zarathustrianismen (Zoroastrianism).
Mithraskulten
Mithraskulten er en romersk-babylonsk solkult, som var fundamentet i det tidlige romerrige helt op til kristendommen blev indført i omkring år 400. Mithraskulten bygger på dogmer fra Zarathustrianismen, som igen bygger Mazdaismen (iransk astrologi).
Monisme (neoplatonismen)
Den neoplatoniske monisme er læren om at alt kan føres tilbage til ét grundprincip "The One" (den eneste). Der er hverken tale om en gud eller en religion, der er tale om et fænomen i metafysikken, som kan sammenlignes med inertia/di-elektriciteten bag den magnetiske kraft i feltmekanikken.
Nordisk mytologi (Asetro)
Nordisk Mytologi eller Asetro er grundlæggende en forståelse af naturlovene i kosmos, baseret på stjernernes- og solens årlige cyklus, beskrevet igennem en række metaforer og guder. Asetroen er praktisk talt identisk med den tro man havde i samtlige tidligere kulturer overalt i verden. Derfor er det et godt spørgsmål hvilken en der er ældst? Når man sammenligner metaforerne i de forskellige kulturer omkring i verden, virker det mest sandsynligt at Asetroen er inspireret af en lokal observation af himmellegemernes cyklus, blandet med østens vedaer, iranske/indiske Ahura (ass), og egyptisk filosofi, som muligvis blev bragt til norden sammen med fønikerne?

Nogle mener at Nordisk mytologi er en af de ældste myter, som har spredt sig sydpå? Men hvis man tager udgangspunkt i de ruiner der findes fra megalitperioden, i bla. Indien, Sydamerika og Egypten, så virker det usandsynligt at den gamle viden skulle udspringe fra norden?

Ordet Ase finder også rod i Ass, Anzu, Ahura (Ahura Mazda Iran), Aset (Isis i Egypten), Asur (Osiris i Egypten), As-trologi, As-tronomi... Alle beskrivelser af ikke-fysisk, overordnet fænomen (Gud).

Platonsime
Platonisme er grundlæggende den græske filosof Platos forsøg på at genskabe, og forstå den oprindelige egyptiske metafysik (hvad egypterne vidste og hvor de havde deres viden fra).

Det er vigtigt at forstå at oversættelserne af platonismen er særdeles mangelfulde og misvisende, hvilket skyldes at mange vigtige betydninger af ord, og vendinger, er gået tabt ved oversættelserne til nygræsk og latin. Det er også årsagen til at den filosofi man lærer på moderne akademia (2018) praktisk talt er "værdiløs".

Plato var en smule diffus i flere af sine observationer, mens hans efterkommer Plotinus endte med at være sin "læremester" overlegen. Plotinus er klart at foretrække frem for alle andre filosoffer i neoplatonismen.
Rosenkors-ordenen (AMORC)
Rosenkors-ordenen er en af de ældste opfølgere af de græske og egyptiske myserieskoler i den vestlige verden, og dele af læren har siden lagt fundamentet for frimurerordenen. Medlemmerne søger fortrinsvis efter sandheden, eller "lyset", i den gamle egyptiske metafysik, baseret på den lyskult der opstod omkring den egyptiske farao Akhenaten og hans kone Nerfititi.

Keyoflife opfatter Rosenkors-ordenen som noget positivt, hvor man kan lære ufatteligt meget om sig selv og verden. Dog slutter den viden man kan optage igennem ordenen brat, i det 19 dynasti, i Armana perioden i Egypten, med Akhenatens fortolkning af soldisken og lyset. Hvis man vælger at lade sig rive med af Rosenkors-læren, så skal passe meget på at man ikke havner i et New Age, eller pop spirituelt stadie, hvor man opfatter sig selv som enlightened (oplyst), man lærer nemlig aldrig noget om principperne bag denne "oplysthed" eller "gud", hvilket er typisk for den vestlige esoteriske, og okkulte viden.

Med andre ord, så findes der et dybere lag af den oprindelige egyptiske metafysik, som ikke kan erhverves igennem Rosenkors-ordenen! Her henvises der til feltmekanikken, som praktisk talt er det samme som pre dynastisk egyptisk metafysik og astronomi. Ikke Akhenatens fortolkning af dyrkelse af lyset!

Rosenkors-ordenen har mange tilhængere i Californien, især blandt mange kendte artister i Hollywood, og bliver ofte mistolket som "illuminati".
Rosettestenen
Rosettestenen er årsagen til at vi er i stand til at tyde det dynastiske egypten's fortolkning af hieroglyffer. Det skyldes at den samme skrift er indgraveret i stenen på tre forskellige sprog, hvoraf det ene er egyptiske hieroglyffer.

Man skal være forsigtig med at bruge oversættelserne fra stenen, til at tyde rod-betydningen af hieroglyffer fra det pre-dynastiske Egypten! Det skyldes at symbolerne over en lang periode har ændret betydning, specielt når nye konger kom til.
Smaragdtavlen fra Hermes/Thoth
Den lille tekst stammer angiveligt fra en urgammel smagrad tavle, og blev noteret i en Arabisk bog mellem det 6. og 7. århundrede. Der er dog aldrig nogen der har set tavlen, eller ved hvor den befinder sig. Legenden siger også at tavlen er lavet af et materiale der ikke kan forgå.

Mystikken kan dog hurtigt manes til jorden... Der er tale om en metafor for den egyptiske metafysik, som er nedfældet som en metafor i "nyere" tid. Metaforen i teksten handler om Thoth (tanken og hukommelsen), som er budbringer for den højere bevidsthed (feltet). Thoth beretter om energies cyklus i mikro- og makrokosmos (As Above So below), fra dens rejse som "ingenting" (di-elektricitet) til manifestation som materie og liv (elektricitet) i den evige cyklus.

Teksten beskriver at principperne i universet er de samme, uanset om der er tale om en celle eller en stjerne. Den bagvedliggende viden i teksten har dannet fundamentet i Hermetismen (Hermes Trismegistus), neoplatonismen og alkymismen mfl.
Synkretisme
Synkretismen er læren om hvordan alle metaforerne i teologien, mytologierne og religionerne oprinder fra den samme urgammle viden om skabelsen af lyset (astrologien).
Thoth The Atlantean teksterne


Toth the Atlantean teksterne (de 13 kapitler om Atlanten Toth) er en fiktivt tekst som florerer i New Age-filosofien, skrevet af Maurice Doreal i 1939.

Teksterne er det pure opspind og har hverken oprindelse i tidligere visdom eller i metafysikken! For sandhedssøgende er dette en blindgyde som trækker dem ind i New Age kultens bundløse sorte hul!


Teksterne må ikke forveksles med teksten fra smaragdtavlen fra Hermes/Thoth!



Toraen
Toraen er de ortodokse jøders helligste skrifter, som biblen også er bygget op omkring. Ordet Tora er blevet tillagt betydningen "guds lov" eller "gods will", som i overført betydning er "gods wheel", da ordet Tora er udskifteligt med "hjul", det astrologiske hjul (Torah, Toroflux, Torusfield, El Toro, Taurus, Tyr, Terror, Tarrot, soldisken/hjulet Hathor)

Alle de Abrahamiske religioner er pure astrologi, og oprinder fra den egyptiske fortælling om disken/hjulet Hathor (Hathorah) og guden RA (toRAh) i det astrologiske hjul. RA og vædderes tegn/Ram er abRAM (Abraham).

Abram kan fortolkes som "fader RA/Ram", vædderens tegn, begyndelsen af energiens cyklus i torusfeltet. Læg også mærke til ligheden imellem udtalelserne af Thoraen og Koranen.

Kort sagt... Toraen er historien om solens cyklus. Lad der blive lys...

Trivium
Trivium er et værktøj til højere forståelse, som oprinder fra den neoplatoniske skole. Trivium lærer hvordan man skal tænke, fremfor hvad man skal tænke! Trivium består af de "syv frie kunster", opdelt i trivium (grammatik, retorik og dialektik), og quadrivium (aritmetik, geometri, musik og astronomi).
Vedaerne
Vedaerne er den indiske version af den oprindelige samlede metafysik (det fysiske og ikke-fysiske univers), og er den reneste metafor i nedskrevet form der findes, om den urgamle viden om energiens cyklus i kosmos. Den er skrevet i 1. metafor, dvs. kun en oversættelse af den originale viden. Vedaerne ligger på linje med den egyptiske khemitologi, og den eneste forskel udover analogierne, er at Khemitologien ikke er nedfældet som tekst.

Veda betyder "viden" på sanskrit, og hjulet "det astrologiske hjul" benyttes som redskab for at skabe den optimale forståelse af hvordan cyklusserne i kosmos fungerer.
Zarathustrianisme (Zoroastrianism)
Zarathustrianismen (Zoroastrianism) er en religion baseret på Azura Mazda (den oprindelige iranske astronomi). Ordet "zoroastrian" kan med fordel omtolkes til "zoodiac-rotor-astro-arian" hvilket er læren om solen der bla. passerer stjernebilledet vædderen (Arian/Aryan) ved forårsjævndøgn. Det er også herfra at myten om Zorro er opstået.